A-SUB® Successfully Completed the Test of DTF One-Stop Solution on October 18th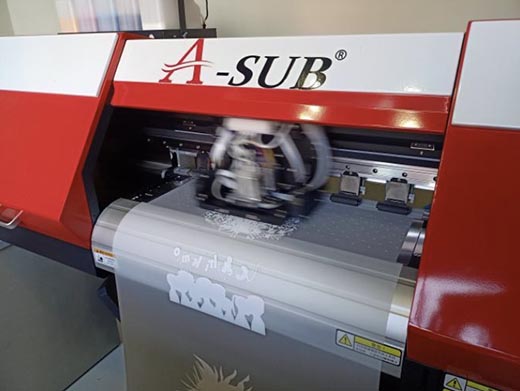 A-SUB®, a leading Chinese manufacturer in digital printing (especially in the field of sublimation), started to invest in research and development of the latest digital printing process – DTF in March today, and completed it on October 18 this year. The test of DTF Printing, from DTF Film, DTF Ink, DTF Printer&Powder Shaker are all developed by A-SUB®
http://asub.com/ 
What's DTF Printing?
DTF is a popular method of transferring prints to fabrics and other substrates due to its reliability and cost-effectiveness. It has also grown in popularity among various studios and organizations. DTF (Direct To Film) is a way to transfer prints to fabrics and other substrates by using a hot pressing method. This is the process where the printing consumables used are PET heat transfer films: New transferring supplies. First, print the pattern on a special DTF printer. Then, transfer the pattern to a hot press.
DTF vs DTG: The Difference
DTF and DTG processes have many different characteristics. DTG can be printed on clothing while DTF is applied to clothing using DTF Film and heat presses. DTG can only be used on cotton fabrics. DTF can be used on any surface.
Advantages of DTF
About DTF, Mr. Zhu, an engineer of A-SUB®, said that compared with the DTG process that was used before, the advantages of DTF are overwhelming. DTF's color saturation is superior to DTG. This can be seen from the results on the same clothes. DTF can also be used for batch printing and is cheap, so you don't have to sacrifice cost-effectiveness.
DTF is a brand new method of transferring. Many questions regarding the limit of fabrics and color can be solved by DTF film. With DTF film, people don't need to worry about the colors and fabrics of the substrates during the process of transferring. DTF offers more options and costs less. DTF transferring has a more beautiful and vivid effect.