AUSSIE OUTFIT LAUNCHES DESKTOP DTF
10 March 2023| 10 March 2023
Impression Technology Australia launched the Merch FactoryQO-T, a dedicated desktop sheet format printer for garment transfers.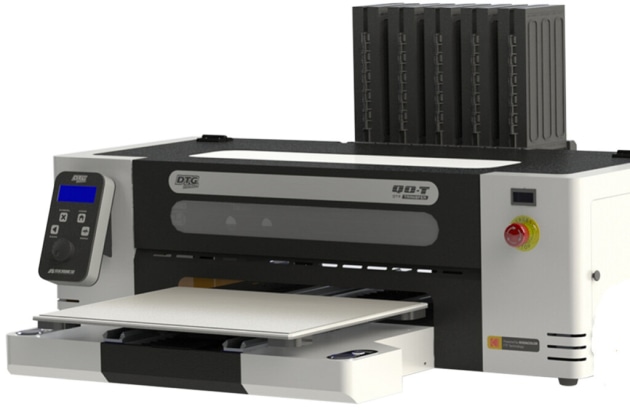 The company says the QO-T DTF printer is a first of its kind desktop sheet format DTF system paired with Kodak consumables, for what it claims is 'best in class' DTF transfer production.
Merch Factory QO–T Desktop format DTF printer is ideal for small print shops and retail environments.
Impression Technology's equipment range is now available in over 100 countries. It includes the Q1 Hybrid DTG/DTF printers, the Q1 T roll to roll industrial-grade DTF Printer, and the Merch Factory QO–T Desktop format DTF Printer.
Impression Technology developed hardware for the DTG/DTF market to address growing demand for DTF solutions in garment decoration. Fespa introduced the Q-Hybrid Series DTG/DTF garment and roll-to-roll DTF transfer printing printers.
Impression Technology just hosted its European showroom in Uitgeest (Netherlands) for its distributor partner training event. The training event was focused on the company's latest Q Series DTG and DTF industrial grade printing platforms. The event brought distributors from across Europe and Turkey to focus on sales, technical operation, maintenance, and print management software to ensure optimised output, hardware servicing/performance and longevity of the Q Series printing equipment. The Q Series Printers were designed to meet the needs of digital garment decoration.
Impression Technology Australia CEO Steve Richardson said, "Training events like these are integral to supporting and educating our global distribution network about our products. Our Q Series equipment range is designed to give the best results for end users. Our team has spent years developing and manufacturing industrial-grade digital printing systems at competitive pricing.
"Our aim is to help end users take the next step in improving digital garment decoration processes and grow their businesses by being able to decorate a broader range of fabrics and products with equipment and consumables tailored for the evolving needs of garment decorators."
Impression Technology's corporate headquarters is located in Sydney. It also has manufacturing, training, and service centres in Singapore and Malaysia.