ISKCON News | NE-BBT Releases 2022 Stats Showing Growth in Distribution, Printing, eBooks, and More
NE-BBT Releases 2022 Stats Showing Growth in Distribution, Printing, eBooks, and More
By Thomas Haribol, ISKCON News Managing Editor   |  Aug 16, 2023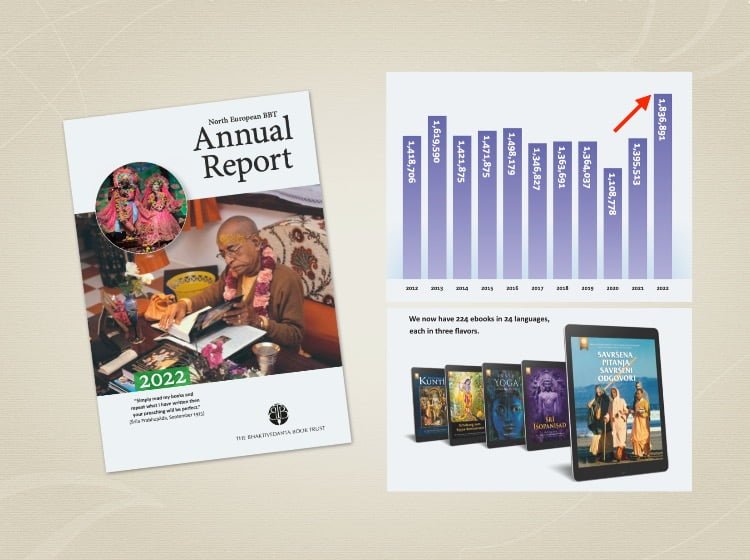 The North European BBT published its annual report 2022. It includes informative features about devotee service and preservation projects as well translation efforts and digital initiatives.
Highlights of the report include
– A significant 27% increase in the number of books distributed. From 1,395,513 books in 2021, to 1,836,891 by 2022. That's the highest annual number in almost 25 years.
– The top five distributing countries included Russia, Great Britain (England, Scotland, and Wales), France, the Czech Republic, and Hungary.
– 2,075,852 pieces of literature were printed (that's a 35% increase over 2021). A book was sent to print every 3.7 working days.
– With the continued growth of ebooks, the BBT team is converting the entire back catalog of over 1,000 titles in 45 languages into this digital format. They have 224 ebooks available in 24 different languages, in various ebook formats. One of the newest ebooks is "Bhagavad-gita As It Is" in Azerbaijani.
– First edition books include the Kyrgyz language "Bhagavad-gita As It Is" and "Perfect Questions, Perfect Answers" in Albanian and Mongolian.
– The BBT art scanning project, based in Detroit, is cleaning and scanning priceless art from the early days of ISKCON, including Bharadraja Dasa's Krishna book painting of the Yadus bathing at Kurukṣetra during a solar eclipse.
– Interviews with Acyutapriya Dasa, Zonal Supervisor for Ukraine, and Bhakta Andriy Lytvyn on book distribution and translation work that continues in Ukraine despite the challenges of war.
– A feature on the Republic of Tuva (located in south-central Siberia) which now has a translation of "Perfect Questions, Perfect Answers" in Tuvan.
– An interview with Guara Krishna Dasa on how the Russian devotees are meeting the challenges caused by the war.
– The new BBT Audio Library on the iOS and Android platforms is now in the testing phase.
– And much, much more.
The full 52-page report can be read here.
Srila Prabhupada said in 1977, "Every house should have our books – every gentleman, in any language, it doesn׳t matter. It is our propagandist. Now you are getting all languages, so we can capture the whole world." There are many ways devotees can help serve this mission which was so dear to our founder-acharya. For more information on how to participate, please email [email protected].  You are also encouraged to visit bbtmedia.com and bbtedit.com.