Procolored Launched DTF Printer Under $1000: The Most Affordable High-Quality Printer Yet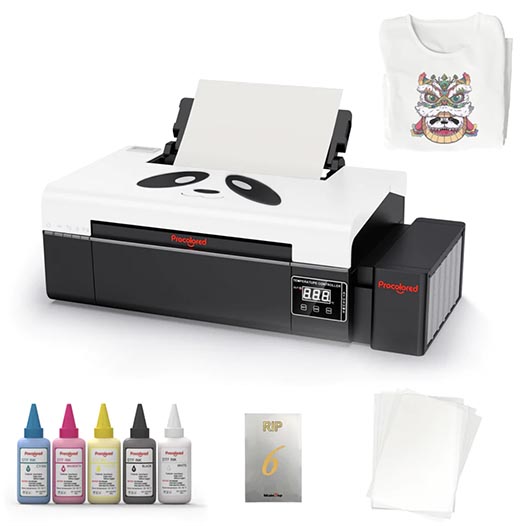 The A4 DTF Printer prints A4-sized images in just 3 minutes. Direct to Film Printer offers PRO RIP printing software, which allows users to print multiple designs simultaneously on one workbench. 
Procolored has taken professional printing to the next level with the introduction of a durable, affordable, and game-changing A4 DTF Printer. This printer is the most affordable on the market.
Procolored L805DTF A4 Printer is an efficient direct-to-film printer. It prints quickly, costs little, and makes a lot of money. The L805 DTF-A4 Printer is highly rated for its bright colors, professional ink and excellent customer service.
VIDEO: https://www.youtube.com/watch?v=ShUZqzyqsz0 
Digital Transfer Film, the most recent method of digital printing, makes it easy to print tee-shirts. Additionally, the print texture is very strong and elastic as the ink material is made from plastisol. Powdered flour or adhesive glue are used to attach the printout to the tee material. The print looks solid and tight, without being porous.
The A4 DTF Printer, which retails at $899, is unbeatable in price. For those who are interested in DTF technology, it offers a high return on investment. It also features a White Ink Mix & Circulation that reduces printer head clogs, and greatly increases print head life.
The Procolored L805 DTF A4 Printer also features an auto nozzle cleaning system, an automatic white ink stirring, a water & air cooling system, and a temperature and humidity display.
Procolored takes pride in its 9+ innovative technology patents, 20+ engineers who provide a strong after-sales service, three years warranty plus good quality guarantee, and 15+ years of Research & Development and Manufacturing experience.
One of its customers, Emmanuel F said that the print quality was excellent. This product is excellent and I will be purchasing more from you in the future.
Linda, another customer, applauded Procolored for creating such an innovative printer that it serves as an excellent option for entrepreneurs and sellers looking to grow their businesses.
"I love my smart A4 Panda DTF printer. It's easy to print. Linda wrote in a review that she could print her design on the T-shirt in just three steps.
Procolored® is a professional UV printer, DTF printer and DTG printer manufacturer and supplier which has been focused on the digital printing field for more than 16 years. Procolored also offers the most comprehensive range of UV printers, DTF printers and DTG printers for sale for small&medium printing factories, print shops, DIY hobbyist and makers and creators.
Those who want to add the A4 DTF Printer to their carts may visit www.procolored.com right away to get started. For more information about Procolored, including its entire product line, visit its social channels.