Roland DGA Introduces New VersaSTUDIO GS2-24 Desktop Vinyl Cutter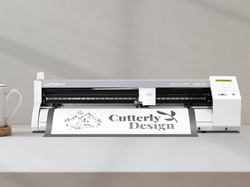 "The compact size, ease of use, and affordability of our VersaSTUDIO Series offerings, including the new GS2-24 cutter, make these devices ideal for anyone who wants to launch a new business, grow a current business, or work from home," – Daniel Valade, Roland DGA Product Manager of Digital Print

IRVINE, Calif. (PRWEB)
January 11, 2023
Roland DGA Corporation, a leading provider of wide-format inkjet printers, printer/cutters, vinyl cutters, and other advanced digital devices, has announced the newest addition to Roland DG's VersaSTUDIO series of desktop devices – the compact and powerful GS2-24 vinyl cutter.
VersaSTUDIO GS2-24 is a result of more than 20 years of experience and technology as a leading manufacturer of vinyl cutters. It offers users the perfect combination of media compatibility with precision, quality and ease-of-use at an affordable cost. The GS2 is the first Roland DG cutter to be sold under the VersaSTUDIO label. It offers small and home-based businesses a professional cutting solution with superior performance than other devices on the market.
With a maximum cutting speed at 850 mm per minute and a high cutting pressure of 500 gf, the GS2 elevates desktop productivity and cutting power to a new level. It's capable of cutting a wide variety of materials – ranging from thin heat transfer sheets and window films to thick paper and rubber sheets for sandblasting, as well as commonly used vinyl sheets – quickly and accurately. The GS2's small footprint allows it to be easily placed on a desktop. Users can also use the stand included to free up space on their desk.
The GS2 combines remarkable functionality and versatility with the legendary Roland DG durability, dependability and dependability. It is unbeatable in many applications including sports apparel, T shirt customization, indoor and exterior advertisements and signs as well as vehicle graphics, office displays, and other display applications. You can easily produce labels and stickers using images or photos printed with commercial inkjets. The GS2 can read the four crop marks and automatically cut along the defined cut line. This makes it possible to quickly and precisely finish stickers with complicated shapes that would otherwise be difficult to create by hand.
Roland DG CutStudio design tool is included. This software makes it easy for you to create simple shapes, text, and illustrations. It is also easy to extract the outline from image data with this user-friendly and powerful software. The GS2 also comes with dedicated plug-in software for outputting directly from Adobe® Illustrator® and CorelDRAW®, which are both widely used in the design field.
Users will also appreciate the GS2's compatibility with Roland DG Connect, a cloud-based app that optimizes customer satisfaction and success by providing a more powerful operating environment, improved workflow, and increased business insights, while benefiting people with different skills, goals, and requirements. Roland DG Connect has a dashboard function that allows users to easily visualize product availability, performance and other information.
"The compact size, ease of use, and affordability of our VersaSTUDIO Series offerings, including the new GS2-24 vinyl cutter, make these devices ideal for anyone who wants to launch a new business, grow a current business, or work from home," said Roland DGA's Product Manager of Digital Print, Daniel Valade. "Like our recently introduced VersaSTUDIO BN-20A desktop printer/cutter, the GS2-24 vinyl cutter is a solution that fits in perfectly with today's growing interest in digital technologies and diversification of work styles."
Roland DGA's Small Business Segment Manager, Angelyn Cubacub, points out that the company's VersaSTUDIO family is continuously growing, offering entrepreneurs seeking to start up home-based online businesses a range of innovative desktop machines to choose from. "The next-generation GS2 cutter complements other state-of-the-art products like the BN-20 printer/cutter and BT-12 direct-to-garment printer, within this series," she noted. "Whatever your specific needs may be, we offer a value-packed, simple-to-operate VersaSTUDIO device to help you build your business."
To learn more about the new VersaSTUDIO GS2-24 vinyl cutter, visit https://www.rolanddga.com/gs2. For more information on Roland DGA Corporation or the complete Roland DGA product line, visit https://www.rolanddga.com.
VersaSTUDIO
Roland DG developed VersaSTUDIO, a desktop product line that allows anyone to accomplish what was only possible for a select few professionals. VersaSTUDIO's compact sizes, simple and easy-to-use operation, and affordable prices make it possible for those without special expertise to easily produce a variety of premium, high-quality items. VersaSTUDIO offers a wide variety of digital devices that allow you to make a variety of custom products including apparel, interior decor and stickers.
Roland DG USA
Roland DG Americas, the North American marketing, sales, distribution and service arm of Roland DG Corporation, serves North America and South America. Roland DG Japan, founded in 1981, is listed on the Tokyo Stock Exchange.