Tillsonburg mayor fumes as town's rainbow crosswalk defaced – for fourth time
Article content
By: Beatriz Baleeiro
TILLSONBURG – A rainbow crosswalk installed in this Southwestern Ontario town just two months ago has been targeted for a fourth time by vandals.
Article content
The local LGBTQ community was outraged when black paint and diesel were poured over the Pride-themed crossing located on Broadway and Bridge Street. City officials said the substances created "a dangerous situation for motorists and an environmental hazard."
Article content
Firefighters helped remove the paint and fuel on the street.
Since the installation of the crosswalk in late July, it has been targeted four times. Oxford County Pride led its creation.
"This is reckless behaviour and it needs to stop," Tillsonburg Mayor Deb Gilvesy said in a statement. "Defacing public property is not acceptable in Tillsonburg at any time. These incidents are so alarming that I can't say enough about them. . . to the entire community."
Oxford Pride's president is Tami Murray. She called the latest act of vandalism "not surprising" amid a slew of anti-LGBTQ incidents across Southwestern Ontario throughout 2023.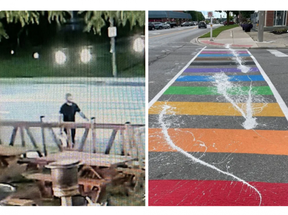 "It's worrisome in terms of the message and some of the hate and violence that's happening" toward our community, Murray said. "I find it interesting that (vandals) worry about their rights being infringed upon but have no trouble infringing on our property rights."
Oxford County OPP reports that they were called just before 1 a.m. on Sunday. As part of the investigation, police reviewed security footage on Thursday.
Anyone with information regarding the incident is asked to call police at 1-888-311-1122. Those wishing to remain anonymous are asked to call Crime Stoppers at 1-800-222-8477, or submit a tip at www.oxfordcrimestoppers.com where you may be eligible for a cash reward of up to $2,000.