HP and Brett Martin Celebrate First Time Collaboration at Printing United 2022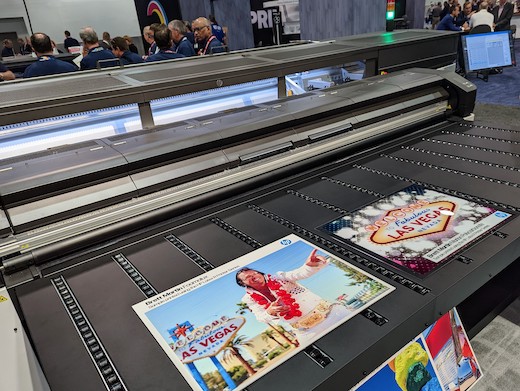 HP and Brett Martin celebrated the new relationship as Approved Partner by working together at PRINTING UNION in Las Vegas. Although HP had previously used Brett Martin substrates at their Graphics Experience Center, Georgia, this was the first time that the two companies had collaborated at an exhibition.
HP had a large number of printers on show in Las Vegas and chose to print Brett Martin's Foamalux White foam PVC and Marlon FS polycarbonate flat sheet in its HP Latex R2000 printer. The images printed all reflected the location of the show and included iconic shots such as the 'Welcome to Fabulous Las Vegas' sign.
Dan Donnelly, Solutions Architect for the HP Latex R Series Printers at the HP Graphics Experience Center explains why these Brett Martin products were chosen, "In choosing a Foamalux foam PVC and a Marlon FS polycarbonate sheet, we were able to demonstrate that our equipment is equally capable of printing on an opaque rigid substrate and a transparent one. The only difference between the two is that the polycarbonate sheet can be reverse printed.
"In general, we like to use high quality products such as the Brett Martin range when carrying out demos, whether they be at exhibitions or to potential customers at our Experience Center. In these situations, we want to showcase our equipment's maximum potential and a product with a smooth surface, excellent colour reproduction and good thickness tolerance allows us to focus on the printing without worrying about potential problems with the substrate."
The companies' collaboration is part of Brett Martin's Approved Partner Programme. Northern Ireland's plastics manufacturer collaborates closely with cutting, printing and thermoforming machine makers to showcase its semi-finished product portfolio.
Mark Robinson, Brett Martin's Sales Manager for the USA and Canada, explains, "It was a pleasure to work with HP at PRINTING United. HP is a well-known brand worldwide and our collaboration allows HP to ensure that HP products can be successfully printed on the equipment our customers use. It also gives us a chance to test our products with the latest in printing and ink technologies."
For more information about Brett Martin's products visit www.brettmartin.com. For more information about HP's large format printing equipment visit https://www.hp.com/uk-en/printers/large-format.html