Ken Freek Honoured at the 16th Annual Canadian Printing Awards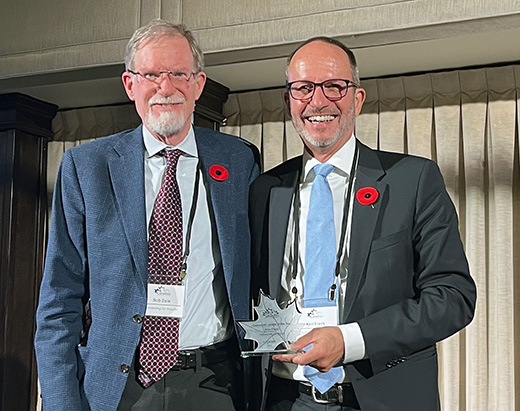 Awarded 'Community Leader of the Year'
Toronto, ON — Strategic consulting firm, Connecting for Results (CFR) is pleased to announce that Business Improvement Specialist, Ken Freek was honoured at yesterday's 16th annual Canadian Printing Awards gala. Ken Freek was awarded the Community Leader award for his outstanding and innovative contributions to Canadian printing.
Ken is a veteran of print and a strong advocate for the Canadian Print Scholarships. Here he helps attract the best talent to the industry. The program has helped hundreds of students overcome financial barriers and receive scholarships since its inception.
Ken has been a key contributor to increasing the visibility of the funding organization. He also helped attract top students from across the country to the printing sector. He has developed an expansive resource through the company's website, which includes job boards, an employer roster, tips for employers and students, events calendars, thought leadership articles, and news from trade publications, among others.
Ken serves as an Associate Director at OPIA, providing industry advice and support in addition to his role with Canadian Print Scholarships. He also serves as a member on the education committee of Canadian Printing Industries Association (CPIA), which provides a platform for industry and a voice at the national level.
Ken is a Connecting For Results Business Improvement Specialist. He helps the company and its customers to grow. Ken is an expert in product management and business optimization. His track record includes increasing productivity, customer satisfaction, successful technology integration, and increased productivity. He's previously held positions at Heidelberg Canada and worked as a project management consultant for Marquis Book Printing (formerly Webcom).
"I am honoured to receive the Community Leader of the Year award. I believe in this industry and I'm happy to attract new people for future generations," said Ken Freek, Business Improvement Specialist, Connecting for Results.
"Ken's dedication to helping the print community is truly inspiring. He is an experienced print veteran, well-liked, and respected. We are very proud to have him on our team and to see him recognized for his achievements," said Gordon Griffiths, CEO, Connecting for Results.
For more information on CFR, please visit: www.connectingforresults.com.