Pikeville Police mascot 'Hammy' makes the jump from print to 'life' | News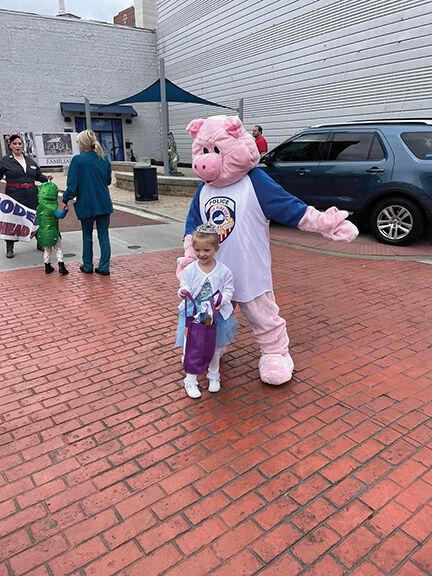 Recently, the new mascot for the Pikeville Police Department made his real-life debut.
Hammy the pig greeted children in downtown Pikeville for Halloween, bringing to "life" the character that has been featured as a comfort aid and in a children's book.
Elizabeth Thompson, Pikeville Police Records administrator, stated that Hammy will attend future events. She also explained the origins and significance of the character.
"Hammy started out as a comfort aid for children that officers would encounter after a traumatic event," Thompson said. "We hadn't had that kind of item until about a year or so ago."
The Kentucky State Police have "Trooper Teddy" — stuffed teddy bear in a trooper outfit — as a comfort aid and the Pikeville Police department wanted to have something similar.
"Captain Russell Blankenship got the idea originally from 'Trooper Teddy,'" Thompson said. "We tossed around some ideas and eventually we decided to do a pig and call it Hammy to one, memorialize Det. Scotty Hamilton who was killed in the line of duty and two, to have a comfort aid that represents our own police department."
Hammy, the pig, has a baseball shirt that features the number 11 on his chest and the department logo at the front.
"That was the beginning of Hammy," Thompson said. "When we got the first shipment of stuffed Hammys in, we raffled off the first one as a fundraiser for Christmas with a First Responder event we do in conjunction with the Pikeville Fire Department."
Thompson decided to bring a Hammy along to different locations and take pictures of Hammy at each location on social media.
"I would put him on a ticket collection box and say 'Hammy's out writing parking tickets,' or I would place him in a patrol car and say 'Hammy's out on patrol,'" Thompson said. "That's the way we promoted Hammy and the raffle for the first Hammy."
Thompson explained that after the raffle ended, people started to ask if they could still buy one.
"We got so many people asking if they could buy one, we decided to go ahead and sell them with the money going to Christmas with a First Responder program," Thompson said. "After the sales of the stuffed Hammys started taking off, I thought we need to have a children's book."
The children's book was based on Thompson's social media posts of Hammy being at different locations.
The first edition of the children's book was entitled "Hammy visits the police station."
"As I started writing the book, I got with Jeff Vanderbeck, publisher of the Appalachian News-Express, and he got me in contact with illustrator Christopher Epling and we made a partnership with Pikeville Medical Center who funded the project," Thompson said. "We sold the books at the police station and at The Shoppes in Pikeville."
Thompson said the next logical step was to bring the pink little pig to "life"
"The big problem was getting a costume because all of them we looked at were kind of pricey," Thompson said. "Somehow, Elisa Sizemore found a donor who donated the money for a costume and Det. Bruce Collins and his wife made the jersey and now we have a 'live' full-size Hammy mascot."
Thompson stated that Hammy, the full-size Hammy Mascot, made its debut at Model City Day Care Center on Halloween. Hammy also greeted children during Nightmare on Main as well as a trunk-or treat event.
"Hammy has been a big hit," Thompson said. "Hammy will be at the Christmas with a First Responder event too."
Thompson said work on a second Hammy children's book is underway.