Print Studio One Increases Capacity & Expands Offering with Kongsberg Digital Finishing System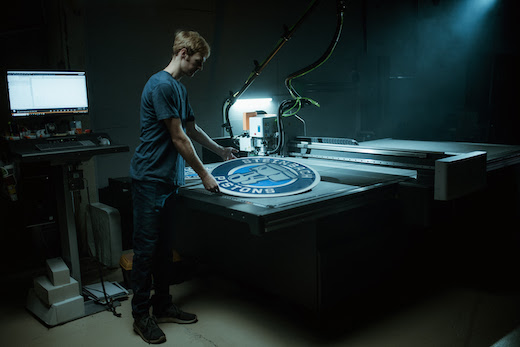 Print Studio One's Wide Format Specialist and lead Kongsberg operator Sam Toews, seen putting the X24 through its paces.
Design and print specialist Print Studio One has invested in the latest digital finishing technology from Kongsberg Precision Cutting Systems ('Kongsberg PCS') to boost production capacity and expand its product offering.
Three-Six North Marketing, a sister company in Canada, and Manitoba-based Kongsberg X24 Edge have installed a new Kongsberg X24 Edge table and a range advanced tooling to increase throughput at their facility in Steinbach.
"Print Studio One and Three-Six North Marketing partner with clients to build their brands across physical and digital platforms, ultimately connecting people to their products and services," said Tim Penner, Partner – Operations. Tim and brother Matt manage the family business that was founded by Dave and Lois almost 20 years ago.
"On the production side, our expertise is in print, signage and vehicle decals, with digital services and design also being developed and delivered under one roof," said Tim. "As we continue to increase our offering, for example with the introduction of new packaging products, we recognized we needed to cut faster without compromising on quality or accuracy – and that's what led us to the Kongsberg table."
Vince Tuccitto is the Kongsberg PCS Territory Manager for Eastern Canada. He stated that Print Studio One now has a combination of proven Kongsberg productivity and flexibility, as well as best-in-class reliability, thanks to the X24 Edge.
"The Kongsberg X24 Edge can easily handle the full spectrum of display, signage and packaging materials from kiss cutting vinyl through to heavy duty milling," said Vince. "There is no sacrifice on machine configuration with all the X-Series options available, and perhaps most importantly the X Edge can evolve to keep pace with the changing demands of Print Studio One.
"Packed with specialty tools, the cutting table handles a wide range of applications, offering speed, power and the flexibility to add new tools for new materials, new applications, or more capacity," said Vince. "This means that a business can add volume and enter new market segments – just as Print Studio One has done."
The Kongsberg X24 is equipped with a 3KW router, a variety of tools including packaging and creasing tooling, vinyl kiss cutting tooling, and packaging tooling. "For a business like ours, the ability to deliver quality results in a faster time is crucial – quality is one of our core values, it's something our clients have come to expect from us," said Tim Penner. "The ease of operation plays into that, and we have enjoyed significant overall efficiency and productivity gains.
"Having the ability to turn around a wider array of jobs in a quicker time has allowed us to not only expand our offering, but also to attract new opportunities by being able to think outside the box," he said. "We believe all organizations should have access to first class, full-service marketing support and that business is about more than just making a profit – it's an opportunity to make a difference. The Kongsberg X24 will allow our business to continue to make a difference in the world."
For more on the Kongsberg X Edge or the entire range of digital finishing solutions and tools visit www.kongsbergsystems.com. 
Visit psone.ca to learn more about the work of Print Studio One or Three-Six North Marketing.